Address:
5356 S. Crocker St.
Short Description:
Introducing the Artist – Ewan Tallentire
Ewan Tallentire describes himself as only 1/8 Strange, and says he can prove it in the family Bible. His friends reply that the other 7/8 must be really weird.

Read the History on a Shirt blog posts for how this translates into the art of odd, unusual, and different history, and how Ewan got involved with art for museums.
Short Description:
Larry Garner is a Colorado native, and has traveled the United States extensively, much of it on the back of a motorcycle. He is a US Navy veteran (the source of his nickname), having spent six years serving the country he loves.

Larry learned to read at a very early age, thanks to his mother. Still an avid reader, Larry carries books with him pretty much wherever he goes. It's not unusual for him to read three or four books a week, during meals and in the evenings after a hard day's work in his or someone else's garage.

Being exposed at a very young age to hot rods and motorcycles, Larry is a life-long gearhead, starting with modifying and customizing bicycles from the age of six to building custom cars, motorcycles, and numerous race vehicles. A talented custom painter, welder, and fabricator, Larry puts his touch on all of his vehicles, as well as those of many friends and others.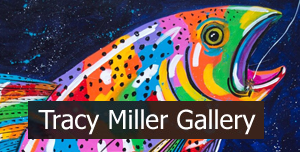 Short Description:
After earning her Bachelor's degree in Art, Tracy spent several years learning the art gallery business by selling other noted artist's works, then started her own full time painting career after moving to Colorado Springs in 1994. Her favorite subject matter and best sellers are her dog paintings and she also loves to paint the wildlife and symbols of the Western United States. In the last two years she has added pet portraits to her repertoire after much demand and request from collectors. The popularity of her dog paintings has also drawn attention from the publishing world and her prints are now sold in Home Goods, TJ Maxx, Home Sense of Canada and other retailers around the world.