Colorado
Short Description:
Our company goal is to bring you beautifully hand-crafted products, that you can gift to a loved one, display in your home, and use on your skin. We are committed to providing you with superior products at an affordable price with detail and consistency. We hope that however you are in contact with us, whether it be customer service, browsing our website, or receiving our products, it brings some joy into your day.
Address:
5356 S. Crocker St.
Short Description:
Introducing the Artist – Ewan Tallentire
Ewan Tallentire describes himself as only 1/8 Strange, and says he can prove it in the family Bible. His friends reply that the other 7/8 must be really weird.

Read the History on a Shirt blog posts for how this translates into the art of odd, unusual, and different history, and how Ewan got involved with art for museums.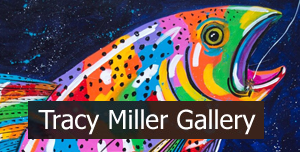 Short Description:
After earning her Bachelor's degree in Art, Tracy spent several years learning the art gallery business by selling other noted artist's works, then started her own full time painting career after moving to Colorado Springs in 1994. Her favorite subject matter and best sellers are her dog paintings and she also loves to paint the wildlife and symbols of the Western United States. In the last two years she has added pet portraits to her repertoire after much demand and request from collectors. The popularity of her dog paintings has also drawn attention from the publishing world and her prints are now sold in Home Goods, TJ Maxx, Home Sense of Canada and other retailers around the world.