paintings
Short Description:
("Words create perceptions; perceptions create the world" ~DC )


Examples of the intuitive process by which she paints, finally arriving at a destination where logic and philosophy take root are apparent in works like 'A Day In The Life Of 'Them' or the Universelings Series. Painting after painting she has gone from the non verbal to be poked into expressing the wisdom of the day.

​

Diana has also found a place in the dancing arts as an interpretive and improvisational dancer viewed worldwide. She has been known as dancing under the names of Artemisbell and Tengobaila while she is juxtaposed on a 'stage' with her paintings.

New Art Works: http://dcampart.wixsite.com/diana
Artwork Videos: http://www.youtube.com/artemisbeil
Peace Project: http://www.universelings.com
Faux & Murals: http://dcampart.wixsite.com/murals
Mural & Art: http://www.youtube.com/AZmurals
Fine Art videos: http://www.youtube.com/dianacampanella
Dancing: http://www.youtube.com/tengobaila3
Peace Project video: http://www.youtube.com/universelings

Original/One of A Kind jewelry: http://dcampart.wixsite.com/dangleonya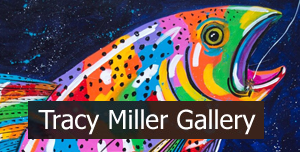 Short Description:
After earning her Bachelor's degree in Art, Tracy spent several years learning the art gallery business by selling other noted artist's works, then started her own full time painting career after moving to Colorado Springs in 1994. Her favorite subject matter and best sellers are her dog paintings and she also loves to paint the wildlife and symbols of the Western United States. In the last two years she has added pet portraits to her repertoire after much demand and request from collectors. The popularity of her dog paintings has also drawn attention from the publishing world and her prints are now sold in Home Goods, TJ Maxx, Home Sense of Canada and other retailers around the world.